May 2011
You are browsing the archive for May 2011.
By Jeff on May 31, 2011
According to forsythco.com the McFarland Trailhead re-opened on Friday. It has been a long wait, but now that it is open, enjoy!
Posted in Closures, Featured, Trail News | Tagged Bethelview, Big Creek Greenway, Big Creek Greenway Conditions, Closed, Forsyth, Forsyth County, Forsyth County Greenway, McFarland, Repairs, Trail | Leave a response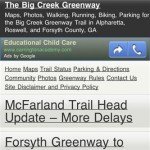 By Jeff on May 18, 2011
BigCreekGreenway.com is now easier to use on your mobile device. We rolled out the mobile version of our website last night.
Posted in Featured, Site News | Tagged Alpharetta, Big Creek Greenway, Forsyth County Greenway, Mobile, Mobile Website, Phone, Site News | 1 Response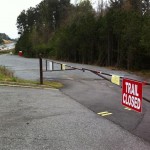 By Jeff on May 9, 2011
The repairs are still continuing near the McFarland trail head. According to the Forsyth County website, they now hope to complete repairs…
Posted in Featured, Trail News | Tagged Big Creek Greenway, Big Creek Greenway Conditions, Closed, Forsyth, Forsyth County, Forsyth County Greenway, McFarland, Repairs, Trail | Leave a response